Half of working women in Wisconsin consider quitting, study finds
Our study shows that the experience of women in Wisconsin doesn't simply mirror what's happening across the county – it's more pronounced. Our research reveals a startling statistic: 50% of Wisconsin's working women consider quitting work constantly, often or sometimes. This is 25% higher than the national average, as reported in McKinsey's 2021 Women in the Workplace report. The number of Wisconsin women considering quitting rises even higher – to 60% – for those working in the retail, foodservice and hospitality industries.
The primary reason Wisconsin's working women consider quitting? They feel undervalued in their current role.
The good news is, with intentional action, Wisconsin employers can do more to retain women workers — a necessity for business success.
As a psychologist and vice president of behavioral health at Milwaukee's Sixteenth Street Community Health Centers, Maria Elena Perez said she has seen many women who have had to leave the workforce since the pandemic.
"They were left to leave their job because (of) the stress of balancing work and family," Perez said, adding that the clinic serves a large population of low-income and Latina women, many of whom work in the service industry. "It was just too much for them."
Perez's observations align with findings in a new report commissioned by Kane Communications Group of Milwaukee, which found that 50% of employed Wisconsin women consider quitting their current job constantly, often or sometimes — 10 percentage points higher than the national average reported in a 2021 study by McKinsey and Co.
The Kane Communications Group research was conducted by Santiago Global Consulting and surveyed 980 Wisconsin working women representing the state's demographic makeup. It did not survey any men.
The Wisconsin women-focused report comes in light of the national "Great Resignation," a term that has been used to describe the recent trend of workers quitting at historic levels.
In September, 3% of Americans quit their jobs — the highest rate recorded since the U.S. Bureau of Labor Statistics began collecting data in 2000. Women have been quitting at higher rates than men, according to data from the payroll firm Gusto, which serves more than 200,000 businesses nationwide.
Overall, 5% of the Wisconsin women surveyed have left their job in the past year and a half, the Kane Communications Group report found. Among Black women surveyed, 13% have left. Many of those women went back to school or changed career paths, according to the report.
"I think it's dire," said Karen Hung, CEO and founder of the global management consulting firm Silver Rock Consulting, based in the Milwaukee area. "Women are just really great assets to organizations. … It is really imperative for us to think about, 'How do we keep women engaged?'"
In Wisconsin, feeling undervalued in their current role is the main reason women consider quitting, the Kane Communications Group report found.
"This concern about women feeling undervalued in the workplace is not new," Kane Communications Group president and CEO Kimberly Kane said. "What's different today is that women are acting upon it."
The report found that 29% of Hispanic/Latina women surveyed left their job due to feeling undervalued — six times higher than any other racial or ethnic group.
Hung said she's left jobs in part due to feeling undervalued but also because of better opportunities that emerged.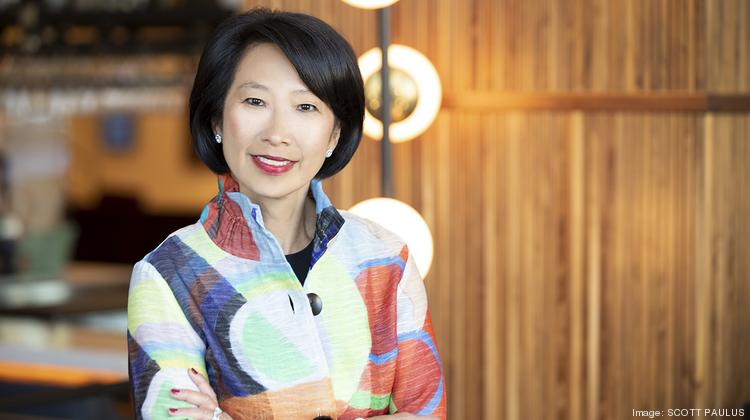 Earlier in her career, which has included stints in executive-level roles at companies including Citi Group, Ann Taylor Stores Corp., General Electric, Direct Supply and Lands' End, Hung experienced subtle indications of not being embraced in the workplace, she said.
For instance, Hung recalled being excluded from social gatherings of other male executives, not receiving certain pieces of information or being held accountable for business outcomes such as revenue performance without having the relevant business levers to make decisions.
"Information in many organizations is sometimes perceived as power," Hung said. "You're holding me accountable for something where I may not have authority to make decisions. … It's like going into a fight with one hand behind your back."
Hung said she believes those experiences were partly a function of being a woman in a male-dominated industry and also related to being a person of color.
Other reasons that Wisconsin women are dissatisfied with their current jobs include mental health issues, lack of adequate communication from employers and pay, the report found.
Working women in Wisconsin report feeling more stress than the national average, according to the report, and 61% of women surveyed said stress impacts their productivity.
Wisconsin women's experiences also varied greatly depending on their industry, the report found. For instance, 78% of women surveyed who work in the manufacturing, transportation, energy or agriculture industries are experiencing stress, compared with 68% of all women surveyed.
Further, 60% of women working in the retail, food service and hospitality industries consider quitting their job, compared with 50% of all the women surveyed, the report found.
Ways to retain women
While many industries have increased wages in an effort to combat the current labor shortage, Perez said that alone isn't enough — particularly when it comes to retaining women of color.
"In the long run, I have found that a wage is not what keeps women in the workforce," Perez said. "It really is about having good relationships with their employers, feeling understood, feeling heard and certainly having employers that are willing to bend when needed."
Offering flexible work hours, sharing mental health resources and providing financial support for childcare would be ways to support employees' mental health, Perez said.
The Kane Communications report also offered many suggestions for employers, including the following recommendations. It also offered specific suggestions for ways to support working mothers, women of color and Gen Z employees.
Leaders must be role models
Consider reverse mentoring
Communicate consistently with transparency and authenticity
Offer enhanced services for all employees (i.e., dry cleaning, meal services, oil changes)
Provide a roadmap for promotion and include pay transparency
Assess your readiness for change
As a first step, employers should review the research, share it with their employees and then survey their own employees with very specific questions about what workers need, Kane said.
"The key message to employers in light of what we learned from this research is that the status quo is no longer working," Kane said. "It's not a problem that employers can just throw money at or stand up a program and call it good."
View the full report and recommendations, click here.