Milwaukee Women inc celebrated the major public companies in Wisconsin that include at least three women on their boards.
Each year, the organization compiles a report that measures gender diversity in director and executive roles at the 50 largest public companies based in the state. Last year, Milwaukee Women inc found 15 of those companies have at least three women directors. In addition, 17 have at least three women executives.
See slideshow for details on the organization's event.
Thursday's event, held at Baird's office inside the U.S. Bank Center on East Wisconsin Avenue, recognized the businesses that have at least three women directors. Those companies are:
Alliant Energy Corp.
ManpowerGroup
First Business Financial Services Inc.
Associated Banc-Corp
Brady Corp.
Duluth Holdings Inc.
Kohl's Corp.
Lands' End Inc.
MGIC Investment Corp.
Oshkosh Corp.
Regal Beloit Corp.
Rexnord Corp.
Rockwell Automation Inc.
Sensient Technologies Corp.
WEC Energy Group Inc.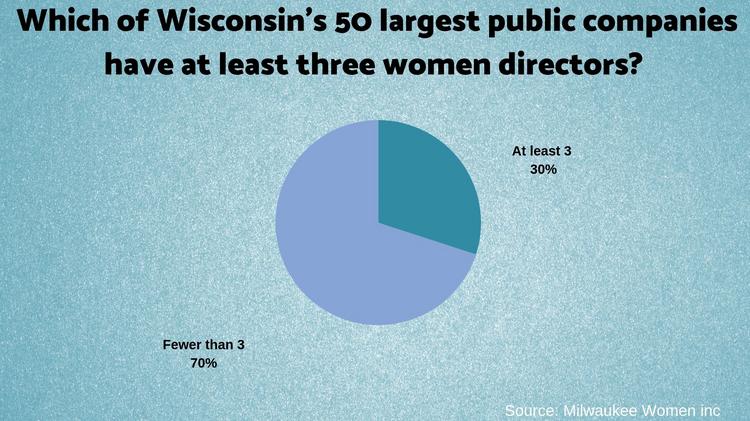 In addition to the awards, the celebration included a tribute to the late Betty Quadracci, a founder of Milwaukee Women inc and a co-founder of Sussex-based printing company Quad (NYSE: QUAD). Joel Quadracci, her son and now chairman, president and chief executive officer of the company, provided remarks on her interest in the organization's work.
"Everything I remember about her was always about building these communities through pulling people along," he said.
Peggy Troy, the CEO of Children's Wisconsin in Wauwatosa and a recent addition to the board at Rexnord, offered her perspective on board service. She encouraged people asked to serve as a director to know whether the company is well run and whether senior leadership is aligned.
"In the absence of a strategic plan and goals, you don't get the results you're trying to strive to do," she said.
Troy also said board candidates should find out whether the company is guided by values, whether the company believes in the power of diversity and what the board's relationship is like with the CEO.
The 2019 research report shows women held 20.8% of board positions at the companies in question. Milwaukee Women inc's next goal is to see representation reach 25% by 2025. Phyllis King, vice provost of the University of Wisconsin-Milwaukee and past chair of the organization, encouraged companies to use Milwaukee Women inc as a resource.
The organization offers tools, such as a database of members for companies seeking directors and executives.
"We are really wanting and asking all of you to continue the diligence as we set 25% for 2025," King said. "If it comes sooner than that, we are very open and welcoming (to) that."